ONLY ADMINS CAN SEE THIS

seats available
views woo in stock:
stock:
start:

term: 202307
reg type:
starts: before today, so it's already over
---------------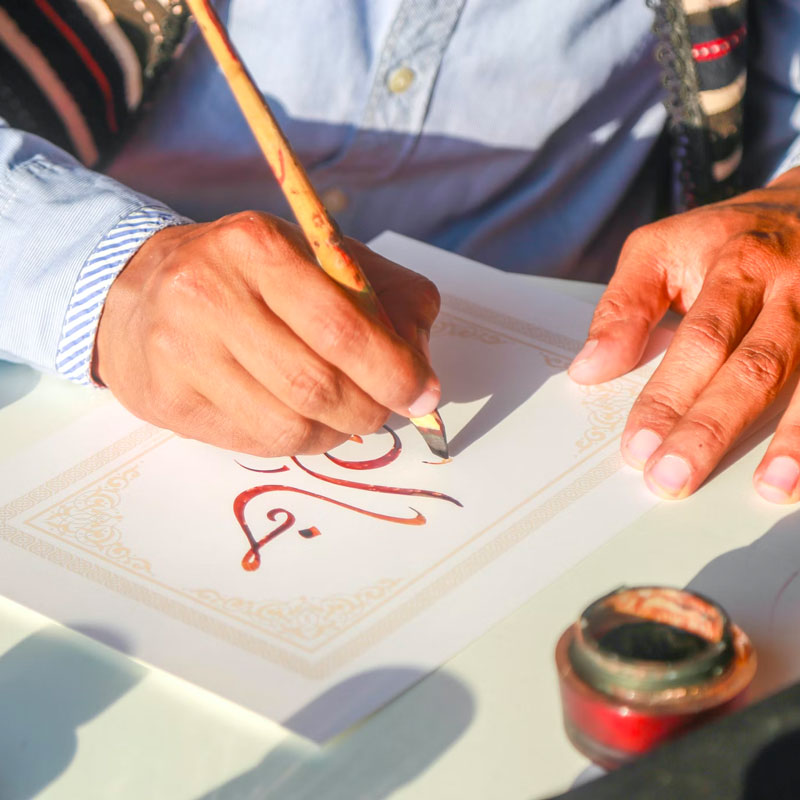 Senior Symposia programming is developed by our board of senior advisors, but is open to participants of all ages. We regret that we can not accept cash or check payment at the door at Senior Symposia events. Unless otherwise indicated, all workshops take place from 2-4pm.
Calligraphy Art from Ancient Letters & Words
– with
Peggy Davis & M.J. Alhabeeb
We do not want cost to be a barrier to participation! You can take this workshop for free, but your donation makes it possible for us to continue offering similar programming for our community! Please consider paying our minimum suggested amount. (Enter 0 to register for free.)
In-Person
Wednesday November 15, 2023
•
2-4pm
•
John Zon Community Center
Calligraphy is the art of beautiful writing.  Peggy Davis uses the Hebrew alphabet and words from the Torah and folk tradition; M.J. Alhabeeb uses the Arabic alphabet and words from the Koran and Islamic tradition.  Both artists employ calligraphy as a form of modern art. What can we learn from these artists and the works they create?  What do they bring to our time from the art and world of their ancestors?  How does their calligraphy reflect the cultures of two of the world's oldest religions? Come, see their art, hear about their lived experience and learn how their lives and art are shaped by ancient words and traditions.
About the Presenter
Peggy Davis is a well-known artist who lives in Colrain. She creates calligraphy art inspired by traditional texts, folk art, and medieval manuscripts. She is President of Temple Israel in Greenfield. M.J. Alhabeeb is Professor of Resource Economics at UMass–Amherst, a noted scholar and artist, who lives in Granby. He was the recipient of the national Outstanding Teaching Award for Innovative and Creative Teaching given by the Academy of Educational Leadership in 2004.